You've likely done one of them before: slapping a Sorry. speech bubble down over a corpse after pulling off a Play of the Game-worthy team kill; spamming a pixelated version of your hero on the payload while you push it; angling that McCree Wanted poster just right so it'll frame the face of your teammate's spray. Sprays are an integral part of the Overwatch experience, whether you're distorting Cute Moira's face on that rock in Hanamura or taunting enemies in the kill cam. And, over the game's lifetime, the Overwatch team has collaborated with a number of different community artists to bring eye-catching event sprays to life.
Overwatch community artist JaviDraws talks art, Symmetra, and what it was like to design sprays for Symmetra's Restoration Challenge.
---
How'd you get into the art industry and, more specifically, into illustration and comics?
I've always enjoyed drawing since I was a child and began uploading my work online at least a decade ago. Growing alongside the online art community made me want to pursue the hobby as a career. Originally, I wanted to get into concept art, but as my art and style naturally evolved, I felt myself gravitating towards illustration and comics. I'm really happy I chose the path that I did.
How do you balance freelance work while keeping yourself immersed in the games you create art for?
I'm most productive in the mornings and make sure to get at least 5 hours of work in every day so I can leave my nights for things like gaming. I work every single day, but I work shorter hours because that work schedule makes the most sense to me and suits me the best.
What got you into Overwatch?
I was never really into FPS games, even though Overwatch had always been on my radar ever since its first cinematic was released because of its bright and colorful visuals. After my brother bought the game and made me play it, I immediately purchased my own copy. It was just too much fun and I wanted to try out all the heroes.
Who's your favorite character to draw?
All of the characters are fun to draw in their own ways, but I have to say that my favorite is Mei. She's one of the cutest characters in the game and I think my style lends itself well to her design.
Who do you main in the game? Do you have a favorite role to play, or are you more of a flex player?
My main is Mercy and my favorite role to play has to be support. I find it the least stressful role, though I think many people would disagree with me. I also flex onto tank and enjoy playing D.Va, Zarya, and Winston.
What influences your art?
The whole of the online art community produces amazing work that I'm inspired by daily when I scroll through my social media. Disney and Studio Ghibli have also had a huge influence on my art since I was a child, as well as the hundreds of shoujo manga I read growing up. I also take inspiration from photography and fashion. 
Do you prefer illustration or comics?
I think they're both integral to the way I communicate my ideas through art. First and foremost, I want to tell a story with everything I create. It really depends on whether I think an illustration is able to communicate what I'm feeling or whether it would be presented better as a comic.  Though, I will say that comics have a more enjoyable process because I can let loose and worry less about making mistakes, whereas as with illustration, the perfectionist in me takes over and it tends to be a more difficult process.
Did your artistic approach to these pieces differ knowing they were going to be in-game sprays?
With the sprays, I focused on trying to make them visually pop, like stickers. It was a totally different process than my larger illustrations. I think simplicity is key for smaller pieces like these because they need to be immediately recognizable to players in a fast-paced game like Overwatch.
How'd you choose the subjects of each Symmetra spray you created?
I collaborated with the Overwatch team when it came to deciding the subject for each spray. They gave me some pointers that I paired with scenes from the Symmetra story that were inspiring to me, personally. I think we ended up with 6 sprays that summarize the story well along with showcasing Symmetra's character and personality.
Where would you most like to see one of your sprays get placed?
I always spam my sprays on the door of the spawn room before the start of each game and, of course, the payload, so those places are the first that come to mind. 
What's your favorite piece of Overwatch fan art you've drawn?
My favorite piece has to be my fanart of Slasher: 76.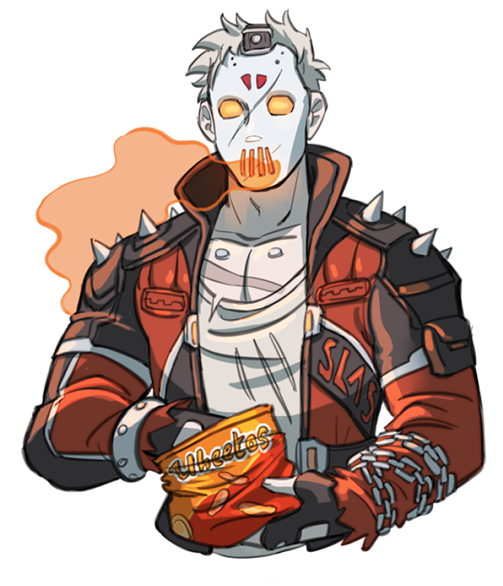 What part of the world would you like to see come to life in Overwatch?
It would be awesome if Overwatch made a map based on one of the many countries in the South Asian region. Being Pakistani myself, the culture here is so diverse and rich, and the team would have many options to choose from and the visuals of a map like that would be very beautiful.
What does Symmetra mean to you?
It's an honor to have my art in the game, especially for a character like Symmetra. Overwatch is always one of the titles I think of when it comes to games with super diverse casts. I think it's extra special that I got to do art for a brown character, being a brown woman myself.
---
Restore order to the battlefield now through November 30 in Symmetra's Restoration Challenge and earn new rewards, including Marammat Symmetra, by winning games and watching Overwatch on Twitch. Tune in to any Twitch streamer while they're playing Overwatch to earn all six of Javi's sprays! Plus, embark on a journey of understanding with Symmetra and Zenyatta in Christie Golden's new Overwatch short story, "Stone by Stone."