Overwatch players, get ready to sharpen your skills, perfect your strategies, and test your mettle in the ultimate competitive arena. Welcome to our newest game mode: Competitive Play!
Competitive Play is available right now on PC, PlayStation 4, and Xbox One.
Getting Started:
Competitive Play is designed for those who truly want to put their skills to the test, and offers a more serious experience than our Quick Play or Weekly Brawl!  modes. To make sure everyone has a solid understanding of the game's mechanics, maps, and heroes, Competitive Play will be locked until you hit level 25.
Once you reach level 25, the mode will become available via the "Play" button in the main menu. Simply select "Competitive Play" from the submenu, and you're ready to enter a match. You can join on your own or in a group, and Overwatch's matchmaking system will automatically find the best game possible for your skill level.
Skill Rating:
Before you can kick off your competitive career, every new player must first complete 10 placement matches in order to obtain their initial skill rating. This rating will be a number between 1 and 100, with higher values indicating a greater skill level.
Skill ratings will be visible at the beginning of every match. As you compete, your rating will increase or decrease with each win or loss based on a number of factors, including your own performance and the skill of the other players in the match.
Seasons:
Competitive Play will consist of four seasons, each lasting two and a half months. During that time, players can increase their skill rating and battle their way up the ranks before the stats are reset at the end of the season. This is followed by a two-week offseason, after which a new season will commence, beginning with a new set of placement matches.
The names of these seasons, along with their schedule, will mirror the seasons in the northern hemisphere—and the Summer 2016 season is already underway!
Match Format:
We've also made several important adjustments to the game just for Competitive Play. Some of these changes are simple interface modifications that allow players to access key pieces of information at a glance, while others are focused on balance to ensure that maps and modes don't favor one side or the other.
Let's break down the changes for each game type separately:
Control Maps:
Competitive Play's scoring system has undergone a major overhaul. Control maps, for instance, are played in a best-of-five format, which differs from Quick Play's three-round system. During a Competitive Play match, the first team to score three points wins.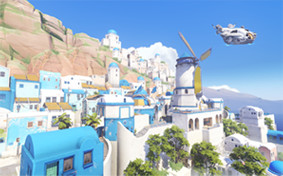 Escort and Hybrid Maps
On maps that contain Escort elements, teams are awarded one point any time a capture point is taken or a payload reaches a checkpoint. Both teams play one round on offense and one on defense. After those rounds have been completed, the team with the most points wins. However, if the game ends in a tie and neither team has delivered the payload to its final destination, the team that pushed the payload further will be the winner. On King's Row, Numbani, or Hollywood, if neither team takes the first point, or the final score is tied, the match enters sudden death. 
Beginning with the Fall 2016 season, Escort and Hybrid maps will also use the same time-based system as Assault maps (see below).
Assault Maps:
Assault matches are handled in a similar fashion, but with several mode-specific adjustments. Each team plays one round on offense. The team with the most points after these rounds wins. However, if the first team fails to capture a point, the match ends as soon as the second team captures the first objective.
If the score is tied after the first two rounds, each team plays a second round on offense. Instead of playing with a standard five-minute clock, teams only have the time that was remaining on the clock at the end of their previous offensive round. If a team has no time remaining, they do not play an additional round.
Also, if either team had fewer than two minutes left on the clock during their previous round, their time is increased to two minutes—but this is their final offensive opportunity. When either team runs out of time, the team with the higher score wins the match. If both teams are tied with no time remaining, the match enters sudden death.
Sudden Death:
In sudden death, the game randomly places one team on offense and the other on defense. Teams then play a single, abbreviated round. If the attackers capture the first objective before time runs out, they win the match. Otherwise, the defenders are awarded the victory.
Please note that this mechanic will only be active for the Summer 2016 season. For more information, click here. 
Rewards:
In addition to experiencing the thrill of victory, players can earn new rewards that are only available through Competitive Play. At the end of a season, anyone who has completed the 10 placement matches will receive a special spray and player icon, with a new set of designs being released every season.
On top of that, your weapons locker is about to get a little shinier. As you win matches, you'll earn Competitive Points. Based on your performance, you'll also receive a number of points at the end of the season. These Competitive Points can be exchanged for cosmetic Golden Weapons for your heroes.
At some point during each season, we'll also activate a leaderboard system that will highlight the best players in the Overwatch community—so if you manage to fight your way into the top 500 players on your platform, you'll receive an in-game notification, certifying your competitive credentials for as long as you can hold the position.
But remember: you only have a limited time to climb the ladder before your stats and ranks are reset at the end of the season.
Player Conduct:
Because of the more serious nature of the mode, penalties are more severe. In Competitive Play, leaving a game early or stepping away from your computer during a match will make you ineligible to join a new game until the original match has been completed. There is an option to rejoin an in-progress game—however, failure to rejoin will result in a penalty.
Continued infractions will lead to restrictions on future competitive matches. As the violations start to pile up, Competitive Play will be locked for an increasing amount of time. Completing matches without incurring further penalties will, eventually returning the account to good standing. But repeated violations can also result in a ban on Competitive Play for the current season—including the forfeiture of any rewards.
Let's walk through the details:
If you become inactive or leave within the first two minutes of the game, the entire match will be canceled. Leaving before the end of a match will make you ineligible to join a new game until the original match has been completed.
If the infraction happens after the two-minute mark, you will be given one minute to reconnect. If you return, the match will resume normally. If not, the remaining players will be given the option to leave without receiving a penalty, but they will receive a loss.
What qualifies as "inactive"? Generally speaking, any time a player doesn't touch the mouse or keyboard for 30 seconds—whether they're on the character selection screen, the pregame countdown, or in the main phase—they will receive an inactivity warning. If no input is recorded within 15 seconds of the warning, the player will be kicked from the game. Also, players who avoid combat for three minutes will be considered inactive.
Let the Battle Begin:
Now that you understand how Competitive Play works, it's time to jump into the fray. This is only the beginning, though! With each new season, we'll be making changes and other improvements based on player feedback. 
If you'd like to take an even deeper dive into the latest update, feel free to check out the patch notes. Don't forget to follow us on Facebook, Instagram, and Twitter for the latest news and updates— we're always happy to answer any questions that you might have.
We'll see you on the battlefield!